Article
Plastic Change takes on polystyrene in Hawaii
18. November 2017
By Erica Cirino
"Sailing through the Pacific, we see as we get nearer to Hawaii more and more Styrofoam," the captain and leader of Plastic Change's expedition Torsten Geertz explained, recalling last year's Expedition Plastic journey from Los Angeles, California, to Honolulu, Hawaii, which he captained.
As a representative of Plastic Change he was on the spot, during a community meeting at Honolulu Hale – Oahu's city hall – discussing a potential ban on polystyrene foam. The nearly equal amount of supporters and opponents of the proposed ban on expanded polystyrene foam food and drink containers across the island, filled up the city hall to its limit.
Polystyrene is everywhere in the ocean
Among the supporters present was Torsten Geertz, captain of S/Y Christianshavn and a leader of Plastic Change's Expedition Plastic, an ongoing scientific mission to collect and study bits of plastic found floating in the world's oceans.
He discussed with the Honolulu city councilmembers his concerns for the world's oceans—particularly waters around Hawaii which tend to accumulate a larger than average share of the Pacific Ocean's plastic pollution because it lies in the path of a swirling ocean current known as gyres.
Ecologically concerned citizens in Oahu have been considering such a ban for the past decade. Maui and the "Big Island" of Hawaii have already passed similar bans on foam food and beverage containers.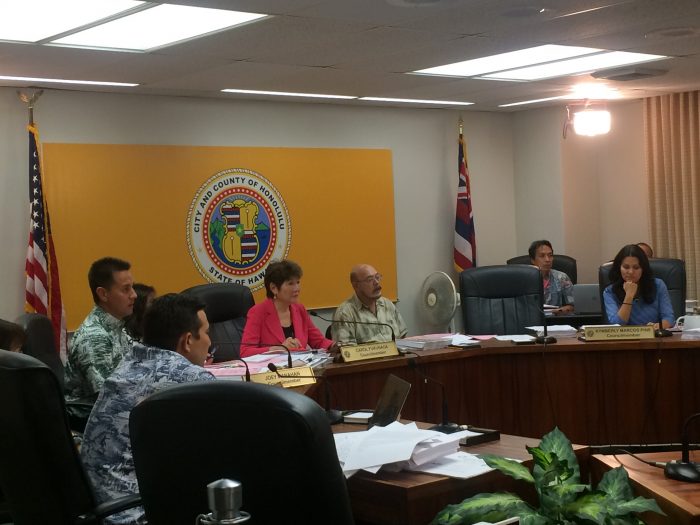 The least expensive option for food containers
Detractors of the bill—mostly members of the foam production and food service industries—complain that expanded polystyrene foam is their best, least expensive option for food containers, and that swapping their foam for more ecologically friendly biodegradable food containers would be prohibitively expensive. About 20 individuals used this and other arguments to express their opposition of the bill.
"Please consider the facts about polystyrene foam containers," said Michael Novato, a Hawaiian who works in the Styrofoam industry, before the council. "I have not had any health problems working where I do, and the FDA has approved Styrofoam for use so it must be safe."
Councilmember Pine pointed out that the FDA has also approved cigarettes for use, but that they can cause severe, irreversible health effects. Health issues associated with polystyrene and other plastics have been well established by scientists, including those working with Plastic Change.
Wildlife eat plastic particles as food
Plastic items can leach toxic chemical plasticizers like phthalates. When littered into the environment, these items easily break up into smaller and smaller pieces, but never fully biodegrade. Tiny bits of plastic tend to absorb toxic chemicals from ocean water. These toxic plastic pieces often poison wildlife, which eat the plastic particles as food.

"Because we have this problem all over the world, it's a good message to send…from Hawaii because you have a lot of problems with plastic pollution on the coasts and in the ocean," said Geertz. "Send a message to the world that, with this bill, you will try to stop that pollution, that this is the way to go forward with all the nations."