Article
More plastic packaging does not contribute to less food waste
10. April 2018
By Lisbeth Engbo
All the time we are told that plastic packaging helps reduce food waste, legitimizing the huge amount of plastic used for packaging. Nevertheless, a new study reveals that the amount of food waste in the EU has grown in parallel with the consumption of plastic packaging. Numbers show that annually 173 kg of food and 30 kg of plastic packaging per-capita in the EU are wasted.
"Unwrapped: How throwaway plastic is failing to solve Europe's food waste problem" is produced by Plastic Change's partners Rethink Plastic, Zero Waste Europe, Friends of the Earth Europe and NOAH. In the years 2004-2014, the volume of plastic waste in the EU grew by 50 % reaching more than 15 million tons. The vast majority of plastic packaging is single use, which means a loss for the global economy of approx. 100 billion EUR per year. In the same period, household waste in the EU has doubled to approx. 30 million tons per year.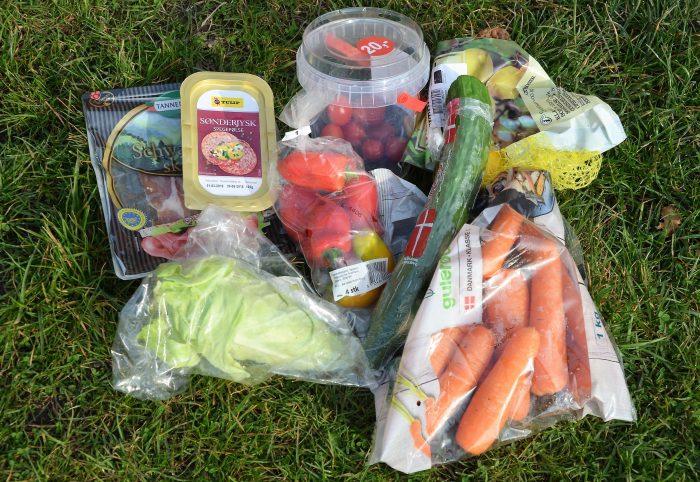 Consumers are fed up with packaging
37 % of all food in the EU is wrapped in plastic. Nevertheless, when you ask Europeans they are fed up with the amount of packaging. Almost four out of five Brits believe that food products sold in stores are over-packed and three out of four Germans say they prefer their fruits and vegetables in bulk rather than wrapped.
The way large supermarket chains are handling food is contributing in creating food and plastic waste. For example, the widespread practice of selling citrus fruits, onions, garlic, bananas, potatoes etc. in plastic nets or bags has led consumers to buy more than they need. Resulting in more food waste due to expiration, spoilage or preparing too much food.
Environmental damage is undermined
Plastic is a major issue to the environment. E.g. it accounts for 85 % of beach waste worldwide, of which 61 % is single-use plastic – mainly associated with food such as chips, candy paper, food containers and cutlery.However, according to the report, the environmental impact of plastic is systematically underestimated in decision-making about food packaging.
When analyzing food packaging, 'Life-Cycle Assessments' are usually used. However, there is a tendency to understate what creates food waste and overestimate the benefits of using plastic packaging.

Recycling is overstated
Life-cycle analysis of plastic tend to focus on climate impact as the main environmental problem and to assume a degree of recycling, incineration and landfill that is way out of step with reality. This results in the design and use of lightweight packaging which is impossible to recycle, e.g. the lightweight plastic bags and containers made of multiple plastic types. Analysis disregard the fact that packaging affects the environment and nature, resulting in plastic pollution in the ocean and along beaches is often underestimated or not taken into account at all.
Read the full report here: Unwrapped: How throwaway plastic is failing to solve Europe's food waste problem.