Solutions
Global alliance against plastic pollution
7. March 2019
Plastic Change is active in the fast-growing global movement "Break Free From Plastic"

So far more than 1800 NGOs from all over the world have joined Break Free From Plastic with the purpose of changing our conception of plastic and our use of it. Since 2018 Plastic Change has had a representative, Anne Aittomaki, in the steering committee of the movement.
"Plastic pollution will explode with consequences for the global population, health, and environment. That´s why we must act here and now. However, we cannot change the plastic culture on our own. There is an urgent need for cooperation and global mobilization. Therefore, we joined Break Free From Plastic" in 2016," says Henrik Beha Pedersen, founder of the Danish-based environmental organization Plastic Change.
Political pressure
The reason why the movement arose is the fact that every year 8-10 million tons of plastic end up in the ocean. This trend is a serious threat against marine diversity, the ecosystem, and ultimately a human health risk. Despite this fact governments and industries have not yet been able to act and establish the necessary legislation and changes to meet the massive plastic pollution.
Therefore, among other things, Break Free From Plastic has put pressure on European governments and multinational companies to take their responsibility for the irresponsible production and use of plastic and the resulting harmful environmental effects.
"Without a specific and coordinated European political action, the industry will continue its inappropriate production and use of plastic," says Anne Aittomaki.

Reduce, Reuse & Recycle
She welcomes the development of the circular economy and the EU strategy on plastic that will hopefully reduce the amount of plastic being produced and prevent plastic from becoming litter.
These actions require plastic to be considered both as a reusable, collectible, and recyclable resource. But this cannot be practiced without political support concerning the full life cycle from the extraction of oil to design and end-of-life processing. This is a development that Break Free from Plastic is trying to accelerate.
"Reduce & Reuse & Reuse again" is one of the mantras of Break Free From Plastic, said in other words: Where plastic products and packages are necessary, they are re-used, repaired, or, failing that, recycled.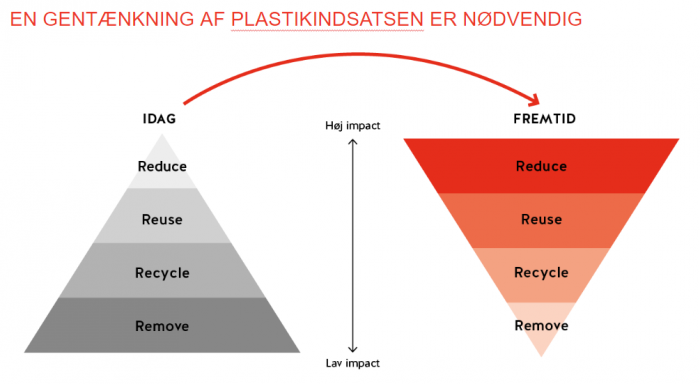 Read more about Break Free From Plastic.